What to Wear to a Job Interview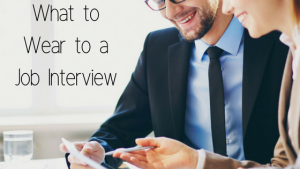 Job interviews are your time to shine and show that you are the best candidate for the position. Preparation is extremely important when it comes to acing that interview. You need to make sure that you are ready to answer each question to the best of your ability. Even more importantly, you need to dress professionally.
Simple and Sophisticated 
First impressions mean the world. The first judgment an employer makes is likely to be based on how you physically present yourself. Women should wear black dress pants, a modest button down, a black or neutral colored blazer, or a professional looking dress or skirt. Men should also keep it simple and sophisticated by wearing a suit or black/neutral colored pants and jacket.
A Pop of Color
Keep the color in your outfit minimal. However, it is perfectly fine to add a little bit of color or texture to your interview attire. Women should try wearing a light pink, navy, or basic colored button down under your black blazer. Men can play with color by experimenting with different colored ties – just don't choose anything too over-the-top. You want to set yourself apart, but don't look like you're trying to match your tie to your high school prom date's hot pink dress.
Cover Up
Your tattoo may have a significant meaning behind it. You probably love the conversation it sparks between you and a stranger, but a job interview is not the time or place to have that conversation. Make sure to cover up tattoos with your interview outfit or makeup if you can't cover it up with clothes.
Now that you know what to wear to a job interview, you can focus on truly being yourself and showing your potential employers that you are the one that they want. Remember to dress for success and you'll do great!