Finding the Best Culture Fit for Your Company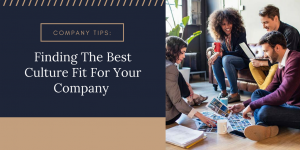 A strong company culture is extremely important to maintain. With that being said, finding the best culture fit is something that companies should carefully consider. High turnover rates can be costly. Hiring candidates based on your company's culture and shared beliefs and values results in a more efficient positive work environment.
Defining Company Culture
Defining company culture isn't something that should be taken lightly. If company culture is not clearly emphasized or stated, a senior worker might have a different view of company culture than a new employee. The company's vision, beliefs, and values should be stated in print or online. If your company has not come up with company beliefs or values, then it is a smart idea to host a brainstorming session. At your weekly meetings, devote a small chunk of time to discussing your company's values and beliefs until everyone understands and approves of these statements. Being able to articulate the values and beliefs that define your company is the first step in hiring a cultural fit.
Implementing A Company's Values & Beliefs in the Workplace
 After defining the company's culture, it is time to put your values and beliefs into action. Every strategy and work-related activity should align with that of your culture. Make sure that your company's website and job ads list your mission and values, so potential employees understand what they are pursuing. If your employees are unhappy with the way your company is handling work tasks and conflicts, then this is a good indicator that you might want to tweak your company culture. Trial-and-error is an effective method to implement when finding who and what is the best culture fit for your company.
Hiring Culture Fit Employees
 Another great method to find your company's best culture fit is interviewing candidates who share the values and beliefs that match your company culture. It is extremely important to find someone who meshes well with your company because this decreases turnover and results in a more positive work environment. You have to ask interview questions that reflect your company's culture in order to make sure that this person understands what you are looking for in a candidate. Don't be afraid to ask the candidate scenario type of questions. These questions will help you understand whether they are able to match your desired values.
Using these tips will make finding the best culture fit for your company an easier process.