Unique Questions to Ask Job Candidates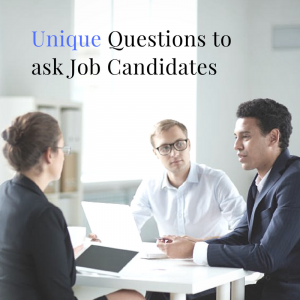 "What are your strengths and weaknesses?" "Where do you see yourself in 5 – 10 years?" "Why do you want to work for our company?" We've all heard these questions before. Candidates often assume that you are going to ask them these standard interview questions. Try asking your interviewees more unique questions in order to see if they will make a good fit for your company. Sometimes it is difficult to see if that person is your next employee because the questions aren't exactly centered around the position nor company.
"What is the most stressful situation you have handled and what was the outcome?"
You want to see how the candidates handle stress. The position that these candidates are vying for might be a fast and high-pressure job. Instead of asking the candidates to describe themselves, this method gives them a chance to refer to a specific example that makes you get a better feel for their character.
"If you won $20 million in the lottery, what would you do with the money?"
Non-traditional questions such as this one will ease the nerves of the interviewee and will give them the opportunity to let their personality shine. You will also be able to learn more about this individual's values and what is important to them.
"Describe a problem you had to solve and walk me through your thinking as you solved it."
Questions like this show you what types of strategies candidates use to handle problems. These methods might not align with how your company solves issues, so that is why this is important to ask the candidate.
"If you could have dinner with anyone from history, who would it be and why?"
Ask creative questions such as asking if the candidate could be a certain animal or meet a famous person as an icebreaker question! These questions make the interviewee more comfortable and gives them the chance to talk about their interests and passions.
Instead of focusing on the basic interview questions, ask these questions to find out more about your potential candidate's character and how they handle situations.